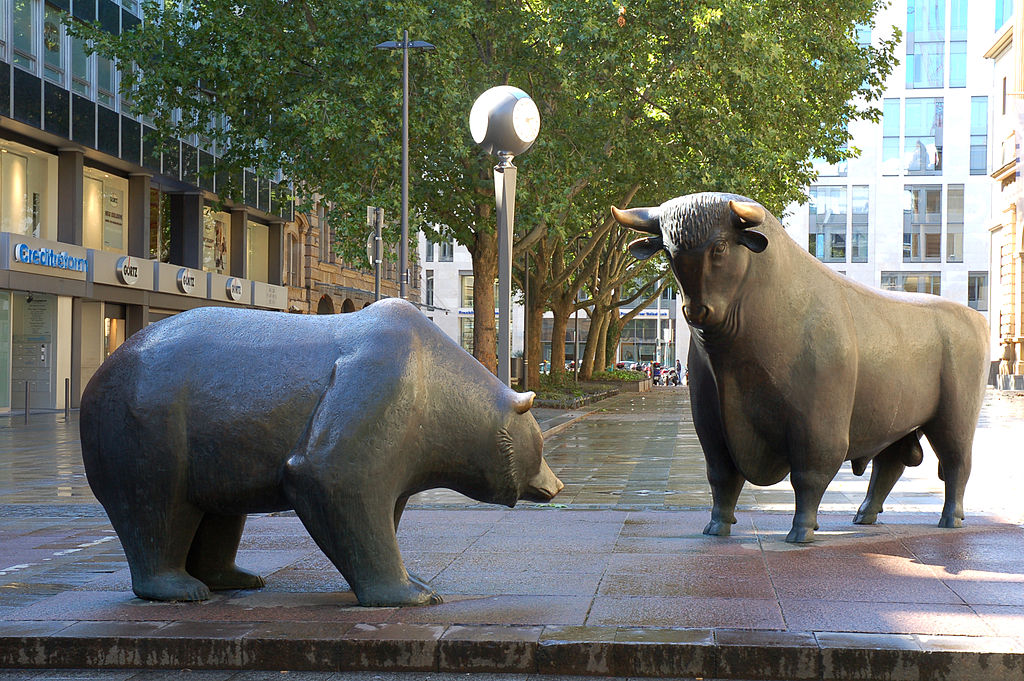 The U.S. stock market suffered its third straight day of losses on Wednesday and the dollar slipped after disappointing government data had investors worried about economic growth.
The Nasdaq was the biggest loser, falling more than 2% after news of a merger between Kraft Foods and Heinz Co. triggered a sell off. The Dow lost 292.6 points, or 1.62%; the S&P 500 lost 30.45 points, or 1.46%; and the Nasdaq lost 118.21 points, or 2.37%.
Unexpectedly weak data from the Commerce Department showed that durable goods orders fell 1.4% in February, the third decline in four months. The data also showed that business investment fell for a sixth straight month in February. U.S. 10-year treasury yields fell after the report, which signals further concern over the economy.
MarketWatch writes:
"Companies are actually investing less now compared to a year earlier in unadjusted terms. A soft global economy and soaring dollar that's made it harder to sell U.S. exports are among the headwinds that are constraining American businesses."
Gold, on the other hand, posted its longest rally since August 2012 after the spot price rose for its sixth straight session. It closed at $1,195.47/oz. on the COMEX, just shy of the key $1,200 level.
The bull market in stocks seems to be losing steam, and gold is still at a relatively low price compared to its 2011 highs. Perhaps it's time to take some of your stock profits off the table and buy gold and silver. If the stock market were to make a major correction, you wouldn't want to have all your eggs in one basket. Gold can diversify and protect your portfolio from economic uncertainty or a stock market crash, and helps keep your money out of the hands of Washington and Wall Street. Call American Bullion today at 1-800-326-9598 to speak with a precious metals broker about adding physical gold or silver to your portfolio, either through a Gold IRA rollover or a cash purchase for insured home delivery. You may also request your Free Gold Guide by submitting the form at the top of this page.
Photo: By Eva K. (Eva K.) [FAL or CC BY-SA 2.5], via Wikimedia Commons
About American Bullion
American Bullion, Inc. specializes in converting your IRA, old 401k, or other qualified retirement account to a self-directed IRA capable of holding physical gold coins and bars, known as a Gold IRA or Precious Metals IRA. We've pioneered a system to handle all the details for you, tax-free and hassle-free. Want to buy gold and silver and store it yourself, outside of your retirement account? Simple – we've insured and shipped millions of dollars' worth of gold, silver, platinum, and palladium to thousands of homes just like yours. As a U.S. Mint nationally listed dealer, we strive to be the best Gold IRA company in the industry and guarantee every transaction is fast, simple, and secure. See our American Bullion Reviews page for testimonials from our many satisfied clients.
—
Although the information in this commentary has been obtained from sources believed to be reliable, American Bullion does not guarantee its accuracy and such information may be incomplete or condensed. The opinions expressed are subject to change without notice.

American Bullion will not be liable for any errors or omissions in this information nor for the availability of this information. All content provided on this blog is for informational purposes only and should not be used to make buy or sell decisions for any type of precious metals.