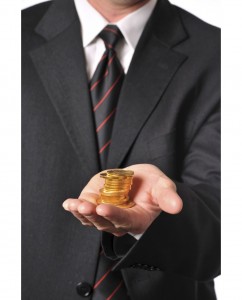 If you're like most people, then your finances are maintained entirely online. From standard checking and savings accounts to investment portfolios and retirement funds, the only proof of your personal wealth is stored as digital data on third-party computer systems. And that should worry you because of how vulnerable such systems are to outside attacks. Consider these recent examples:
A ring of Russian hackers allegedly stole as much as $900 million from 100 different banks in 30 countries between 2012 and 2015.
Citibank suffered massive data breaches in 2011 and 2014 that exposed personal information of some 80 million users and resulted in the direct theft of $2.7 million from customer accounts.
Three men allegedly hacked into JPMorgan Chase in 2014 to steal data from 83 million customers, run a pump-and-dump stock scheme, finance an online casino, operate a money-laundering ring, and manipulate Bitcoin trading.
In addition to individual hackers and hacking rings, digital money and bank data are highly susceptible to country-to-country cyberwars perpetrated by hostile foreign governments; the private agendas of "activist" groups such as Anonymous; and infrastructure failure in the form of lasting power grid outages.
Physical gold on the other hand, can neither be manipulated, nor be erased. For example, when you purchase gold coins or bars for your Gold IRA, they are stored in the Delaware Depository. In this fortified facility, your metals are guarded by multiple layers of protection beginning with state-of-the-art physical and electronic security and ending with an insurance policy backed by Lloyds of London. In addition, if you choose to, all gold is allocated (meaning the coins you deposit are the exact coins you receive back when requesting disbursement) so no ownership disputes ever arise. Even if you do not opt in for a segregated account, and let's say you bought gold American Eagle coins, you will get back gold American Eagle coins with the exact same quality and quantity.
While a complete move away from digital money is impractical in this day and age, it's important to realize that your online banking and investment accounts can be compromised at any time. So, here's another reason to own gold. Be sure to hedge against hacking and other types of cybercrime by putting some of your wealth into physical gold.