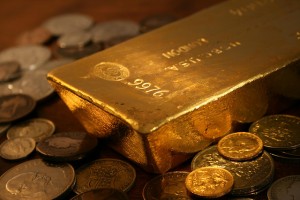 One of the most common questions prospective clients ask before adding precious metals to their IRA is whether to opt for bars or coins. While both types of investments can be profitable in the long run, there are some differences between the two that might sway opinion one way or the other depending on individual financial goals. If this is a question you're currently wrestling with, take some time to consider the following key factors regarding precious metal bars and coins. (We'll look specifically at gold here, but the same generally holds true for silver, platinum, and palladium as well.)
Gold bars
Often available at a lower premium over spot price than coins.
Can be purchased in sizes, generally ranging from 1 ounce to 100 ounces, which allows investors to pad their portfolio very quickly.
Maintain their liquidity across international markets even in times of economic uncertainty.
Easy to purchase and store.
They are one of the top choices for precious metals investors.
Gold coins
Can serve as legal tender in an economic crisis (though the precious metal content will always be worth more than the face value).
May achieve collectible or rare status, thereby boosting its value far beyond the price paid.
In some cases, may require expert knowledge and inspection to ensure authenticity.
Can provide the owner with pleasure in much the same manner as a fine painting or other work of art.
Another point to consider before deciding on bars or coins is that any precious metals purchased for a retirement account must be sent directly to an approved depository in order to avoid IRS penalties. Distributions, and thus physical possession of the actual bars or coins, can then be requested after reaching the IRS-defined retirement age.
As you continue to mull over the bars versus coins debate, just remember that adding precious metals in any form to your IRA is a positive step towards securing your financial future. American Bullion can help you buy gold and other precious metals in bar form today or advise you about beginning a precious metals coin collection, so contact one of our specialists right now.
Although the information in this commentary has been obtained from sources believed to be reliable, American Bullion does not guarantee its accuracy and such information may be incomplete or condensed. The opinions expressed are subject to change without notice. American Bullion will not be liable for any errors or omissions in this information nor for the availability of this information. All content provided on this blog is for informational purposes only and should not be used to make buy or sell decisions for any type of precious metals.