After going down to its lowest prices in almost three decades, gold is off to a solid start in 2014. With gold ending a second straight month on a 10-plus percent rise, many believe the bears have gone into hibernation.
Along with this renewed interest for the yellow metal, gold mining stocks have also started to rise. The NYSE Arca Gold Bugs Index (HUI), which is comprised of gold mining stocks, Barrick Gold (TSE:ABX), the world's biggest gold miner along with top producing companies such as Goldcorp Inc. (TSE:G), and Kinross Gold Corp (TSE:K) have all risen in 2014. These increases have come amid overseas turmoil, emerging markets challenges, and China's economic woes as investors seek gold for safety.
When looking into gold as an investment, many individuals have the question "should I invest in gold mining stocks or physical gold?" Here are a few of the top reasons why we believe physical gold will always be your best choice.
Invest in the Physical Asset
Keep in mind gold and mining stocks are separate asset classes and when you purchase physical gold, you're going to actually buy either gold bars or gold coins. These are then stored in an IRS-approved depository, vault space, a storage unit, a safety deposit box or safe.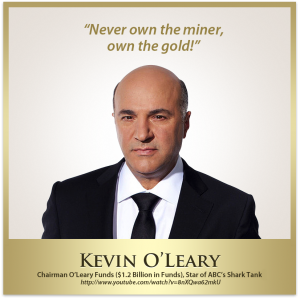 With gold mining stocks, you're purchasing equities in different gold mining companies. This is similar to buying any other stock and they are publicly-traded. Some of the allure with these stocks is some investors have a desire to "strike gold" from these firms mining for gold, similar to oil companies. However, risks can ensue and due diligence needs to be done such as reviewing a company's management, outlook, political risks, and financials.
Kevin O'Leary, star of ABC's Shark Tank says it best, "Never own the miner, own the gold."
Many investors view physical gold as timeless. Unlike traditional paper investments, physical gold will never go out of business or rely on decisions of a company's officers.
Change in Prices
In times of volatile markets and price changes, gold mining stocks can be greatly affected by swings. As a stock, a decline in price will lessen your investment. These companies can undergo profit challenges as mining costs become greater than the precious metal's current value, and the company could be hit hard.
Physical gold, on the other hand, can gain allure with price declines since many investors see it as a buying opportunity to protect their portfolio. This has been fondly referred to as "buy on the dip", with purchases made at lower prices before they turn around and rise.
In addition, physical gold prices will vacillate but they will never hit zero. In contrast, mining companies run the risk of going bankrupt, which would result in a complete loss of your investment.
Investment Performance
In recent years, physical gold has outperformed gold mining stocks. Its price rose to $1,925 in 2011, before tumbling to last year's close just under $1,200. On a broader outlook, in the last 10 years, physical gold prices have jumped more than 400 percent.
With gold mining stocks, you're going to undergo risk whether it's increasing energy and mining costs, limited production, or an unpredictable economy. They have been consistently underperforming in the last few years since stocks can be hit hard in tough times. This causes many investors to simply stay away.
Physical gold has been a store of wealth for thousands of years and has outlasted the world's currencies. Many believe this factor ensures a long-term, safe investment that provides diversification for your portfolio.
Gold's Outlook
Aside from 2014's current rise-to-date, what's the outlook for physical gold and gold mining stocks?
Recently, UBS analysts raised their 2014 gold forecast to a $1,300 average price per ounce, up from earlier $1,200 estimates as they noted a "large investor-sentiment shift." Hedge funds have jumped on the gold rally bandwagon recently, as reports show the greatest amount of bullish bets by them in 14 months.
As for hopping on the gold wagon in physical gold or gold mining stocks, this will depend on an investor's risk profile and investment goals. Physical gold can offer stability, returns, and safety, while gold mining stocks come with an array of risks. If you're interested in adding physical gold to your retirement account, contact American Bullion at 1-800-326-9598 to learn about your options.