When it comes to managing your retirement investments, who knew there were so many fees? No matter what type of IRA you have, chances are good that there are some fees associated with opening, managing, and closing the account. Ultimately, it is always best to do your homework to find the least expensive option possible. Many people don't know about gold IRA fees and costs, nor that they have the ability to shop around for lower ones – yet this could save you thousands of dollars over the lifetime of the account.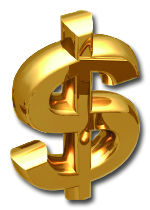 What Are Gold IRA Fees and Costs?
If you are just starting out with investing in your Gold IRA, it is quite easy to compare fees and any related costs from one investment to the next. Generally, this information is presented to you by any investor you speak with and it is generally the same across the board. However, as your investment grows, you'll quickly find that you may need to re-evaluate your fees from time to time. As your investment value grows, you may also need to consider earnings potential, fees, and the overall structure before making changes.
The fees you'll pay will vary from one type of IRA to the next. However, these are some of the most common fees you can expect to pay:
Set-up fees: These are generally always present. Depending on the type of account selected, you can pay as little as $50 or up to several hundred dollars.
Transaction fees: Not all IRAs have this type of fee, but it is often present when you work through a brokerage firm or an independent trustee to buy or sell. This fee is actually a commission. If you use online investments, you will likely pay a fee as well, but this tends to be significantly lower than that of a private investor.
Termination fees: Are you closing your account? Even if you roll it over into another account, you'll likely pay about $150 to do so (sometimes much more). This termination fee becomes a problem if you are moving large amounts of money quite often.
Mutual fund management fees: If you own a mutual fund, you'll likely pay this fee. It can be as low as half of a percent or as high as two percent. It's a percentage of the assets you have in the fund and it goes to pay the salary of the person managing your fund. Index funds tend to have lower management fees than mutual funds.
Load fees: Mutual funds companies charge a load, which is similar to the commissions paid to traditional brokerage firms. Some are called front end loads, which means they are charged to you at the time you purchase the fund whereas back-end loads are fees paid when you buy it.
No matter if you have stocks or precious metal IRA retirement accounts, you'll likely pay some fees. You do have the right to request clarification on any fee and you may be able to negotiate better terms in some cases, though.
About American Bullion
American Bullion, Inc. specializes in converting your IRA, old 401k, or other qualified retirement account to a self-directed IRA capable of holding physical gold coins and bars, known as a Gold IRA or Precious Metals IRA. We've pioneered a system to handle all the details for you, tax-free and hassle-free. Want to buy gold and silver and store it yourself, outside of your retirement account? Simple – we've insured and shipped millions of dollars' worth of gold, silver, platinum, and palladium to thousands of homes just like yours. As a U.S. Mint nationally listed dealer, we strive to be the best Gold IRA company in the industry and guarantee every transaction is fast, simple, and secure. See our American Bullion Reviews page for testimonials from our many satisfied clients.