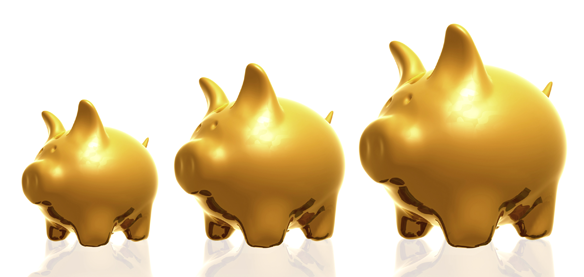 American Bullion recently launched our newest radio ad featuring a financial twist on the story of the Three Little Piggies. This ad will be heard on popular radio stations across America starting next week, but we're offering you the chance to get a sneak peek and hear it here first. If you hear this ad on the radio, let us know what you think on the American Bullion Facebook page.
[soundcloud url="http://api.soundcloud.com/tracks/79081907″ params="color=ff6600&auto_play=true&show_artwork=false" width=" 100%" height="166″ iframe="true" /]
Transcript: This is the story of three little pigs in today's economy. The first little pig built his house on stocks, bonds, and insurance and then saw it blow away with the first winds of economic change. The second little pig built his financial future on real estate, but when the housing bubble burst, so did his financial house. The third little pig built his house with American Bullion, the trusted name in 401 rollovers and IRA transfers. That little piggy discovered the security, safety, and stability that comes with American Bullion and their first class customer service. And unlike other gold companies, American Bullion handles all the paperwork, hassle-free and tax-free. Call 1-800-678-6923 now and see how simple working with American Bullion can be. And when you call 1-800-678-6923 you'll receive your own gold guide and the book "The Next Wave" absolutely free. So call 1-800-678-6923 now and discover American Bullion. Piece of Gold, Peace of Mind. Call now.