What is a Gold IRA?
A Gold IRA functions in the same exact capacity as your current IRA, only instead of holding paper assets it is able to hold physical gold coins or bars. Many of our clients believe gold is a long-term hedge against inflation and wish to add it to their retirement portfolio. Your gold will be kept in an IRS-approved depository until you reach retirement, at which time you can have your metals shipped directly to you or sold for cash at any time. Once your gold-backed IRA is opened, you will still receive your statements; however, rather than being invested in mutual funds or stocks, you will have physical gold coins and bars stored in a specialized depository. The Gold IRA rollover process is a 100% tax-free transaction.
What is a Self-Directed IRA?
The main way investors can own gold in their IRA is through a self-directed IRA. A self-directed IRA gives you the power to decide exactly what you invest in. Self-directed IRAs allow individuals to safely own physical precious metals along with stocks, bonds, mutual funds, real estate, and more in a tax-deferred account. Whether you choose gold, silver, platinum, or palladium, the physical asset is safely stored in a specialized depository.
A "Hassle-Free" Gold IRA Rollover
When working with American Bullion, the process of adding gold or other precious metals to your current IRA is a simple, hassle-free transaction. You can choose to transfer your entire IRA, or a portion of it, into a new Self-Directed Gold IRA – however, American Bullion believes customers should invest no more than 20% of their available investment funds in precious metals. This common practice is known as a "direct rollover" or a "direct transfer." It is a tax-free transaction, meaning the IRS allows you to move funds out of one IRA into another IRA free of tax penalties.
Many individuals also have old 401(k) accounts or other types of retirement plans from previous employers such as a 403(b), 457(b), Thrift Savings Plan (TSP), annuity, or pension plan. These plans can be converted tax-free into a Gold IRA by requesting a rollover. In most instances, one simple phone call will allow the current custodian of your former 401(k) plan to release these funds directly into your new gold bullion IRA. To learn if your current retirement account is eligible, call 1-800-326-9598 to speak with one of our specialists.
Which Accounts Can I Roll Over to a Gold IRA?
A Gold IRA rollover is ideal for clients who currently own a Traditional, Roth, SEP, or Simple IRA. Other types of accounts that may also be eligible include a 401(k), 403(b), 457(b) Deferred Compensation Plan, Pension Plan, Thrift Savings Plan, TIAA CREF, Non-Prototype IRA, and Beneficiary IRA.
Why Gold? #1: The Stock Market vs. Gold
When it comes to retirement, you want to make sure your money is there for you. To better understand this concept, watch this video. Many of American Bullion's clients contact us because they want to protect their retirement by diversifying their portfolio with precious metals. Clients often believe the stock market is overvalued and have the sentiment that a bubble in the stock market may burst soon, decreasing their portfolio value.
Why Gold? #2: Inflation and the Value of Gold
Inflation is a nasty word because it erodes the purchasing power of the U.S. dollar. It means that the consumer goods we buy on a day-to-day basis, such as food and gasoline, require more dollars each year to buy. In the year 1920, a 1 oz gold coin and a $20 bill were worth the same. At that time, they both would have bought a man a custom-tailored suit. However, after inflation, that 1 oz gold coin can still buy a custom-tailored suit but the $20 bill cannot.
Many investors are waking up to the fact that over time the dollar has consistently lost purchasing power due to the government's Quantitative Easing (QE) programs. Think of gold as a long-term growth vehicle. Investors turn to gold because they plan on holding it to keep pace with inflation.
Why Gold? #3: The National Debt and Gold Values
Inflation combined with Social Security and Medicare needing further bailouts all add up to one thing: the national debt is expected to keep growing. At current levels many believe the national debt has become unstable and unmanageable, which may result in panic setting into the market, creating market uncertainty. Physical assets like gold have often been viewed as independent of market cycles and a hedge against market uncertainty.
Because of the continued money printing happening in this country, many believe the devaluation of the U.S. dollar and inflation are going to cripple retirement plans. Our clients believe that the best way to protect their wealth is to open a Gold IRA.
If you're still not convinced, take a look at our infographic for more information: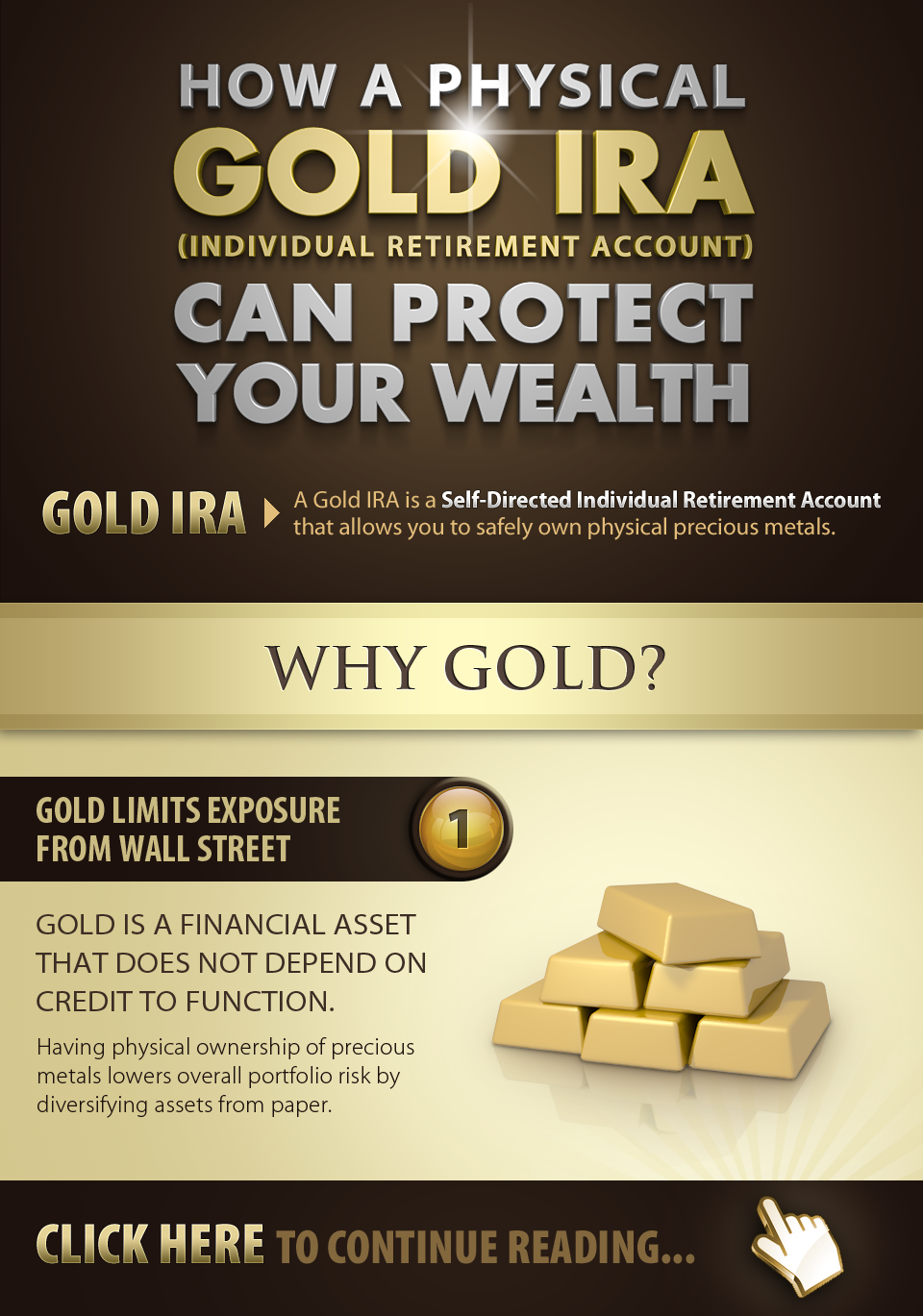 The History of Gold IRA Investing
From 1986 to 1998, the IRS limited IRA account holders to storing only Gold and Silver American Eagles. However, changes in the IRS Tax Code in 1998 granted everyone the opportunity to hold a wider range of IRS-approved precious metal coins and bars within IRAs. Today self-directed IRAs can hold gold, silver, platinum, and palladium bullion that meet certain minimum fineness requirements.
What Types of Coins Can be Included in a Gold IRA?
The IRS has regulations on which types of bullion can be added to a Gold IRA. For a full list of metals, contact an American Bullion gold specialist at 1-800-326-9598. Some of the most common IRA-approved coins and bars are:
Another item that is popular right now among account holders is the American Eagle Gold Proof Coin. Proof gold coins were designed to be placed into an IRA and minted in limited quantities, meaning they have a slight intrinsic value in addition to their gold content. Proof gold is struck four times rather than once like a regular coin, giving it a frosted finish and mirror-like surface. When looking at a proof gold coin versus a regular gold coin, the proof has a lot more luster and detail to it. Also, proof gold coins come in a velvet box from the government along with a certificate guaranteeing its purity and content.
How Long Should I Keep Gold in my IRA?
When talking about retirement plans, gold is traditionally viewed as a long-term investment. Individuals looking to retire in 5, 10, 15, or 20 years want to have something with potential to grow in value while keeping up with the cost of living and inflation. American Bullion recommends that clients plan to keep their investments in gold for a minimum of 10 years.
Where is the Gold in my IRA kept?
American Bullion uses a licensed depository backed by all the major commodities exchanges called the Delaware Depository. You may visit and inspect your gold at the depository, and have the option of either segregated or allocated storage. Features and benefits include $1 billion all-risk insurance coverage by Lloyd's of London, state-of-the-art inventory control and reporting, dedicated security staff monitoring and video recording all activity 24/7, ability to store an unlimited amount of precious metals, and a location geographically separated from major political and financial centers and relatively free of natural disasters.
How Do I Liquidate my Gold IRA?
A great aspect of Gold IRA plans is that when you take a distribution, you can either take possession of the metals into your hands or liquidate them and take the cash value. The advantage is that you have the option to choose one or the other based on your preferences and current financial needs.
Why Choose the American Bullion Gold IRA?
American Bullion is the expert in Gold IRA retirement accounts and has a comprehensive Gold IRA Rollover Department that handles the entire process for you. We have assisted thousands of clients and walked them through the simple, secure, and safe rollover process. Our specialists handle all the paperwork for you and make the transaction extremely easy. If you haven't done so already, now is the time to learn how you can put precious metals into an IRA. American Bullion has an A+ rating from the Better Business Bureau and is certified by Norton Secure and TRUSTe. Call 1-800-326-9598 for a complimentary, no-obligation consultation with an expert and learn how to open an IRA with gold.
Request Your Free Gold Guide
If you're asking yourself "What is a gold-backed IRA?" or "How do I buy gold for my IRA?", American Bullion has created a complimentary Gold Guide that offers a wealth of information on the best-kept secrets for investing in gold. Our Gold Guide brings information together to educate you on gold investing in IRAs and also contains some great visual charts to help you understand the rise in gold over the past decade and how it has increased in comparison to the value of the U.S. dollar. It's full of tips on Gold IRA investing such as how to buy precious metals, which metals are allowed in IRAs, how to liquidate your IRA gold bullion, global factors that impact the precious metals market, and what you can do to help protect your savings from a falling dollar. The Gold Guide will teach you why gold has been sought after for thousands of years, from kings and pharaohs to today's savvy investors. The guide is completely free. There is no obligation. If you've been looking for ways to safeguard your nest egg for the future, then request your Free Gold Guide today by calling 1-800-326-9598 or by filling out the Free Gold Guide form on the top right hand side of this page.